It's true that excellent modern design can often come with a price tag, but you don't need a bankful of dollars to beautify your space. One of our most popular brands is Ethnicraft, a Scandi-influenced Belgian company that's steeped in the modern design traditions of simplicity and functionality, but at prices that many find more affordable.
Ethnicraft originated in the mid-90s as an importer of Indonesian-crafted furniture and homewares but soon the founders, entrepreneurs Philippe Delaisse and Benoit Loos, decided they wanted to design and produce their own furniture. Designer Alain van Havre joined them, and from that small start Ethnicraft soon made a big name for itself. Now there's an international team of fourteen designers, creating a stunning range of furniture and accessories that blend modern design with traditional craftsmanship.
Less is more
True to the tenets of Scandinavian design, Ethnicraft is built around clean lines and simple shapes. We're not talking blocky squares and unforgiving rectangles here, but functional shapes that are softened with Klint-inspired subtle curves, gentle lines and ingeniously-designed eccentricities that never detract from functionality.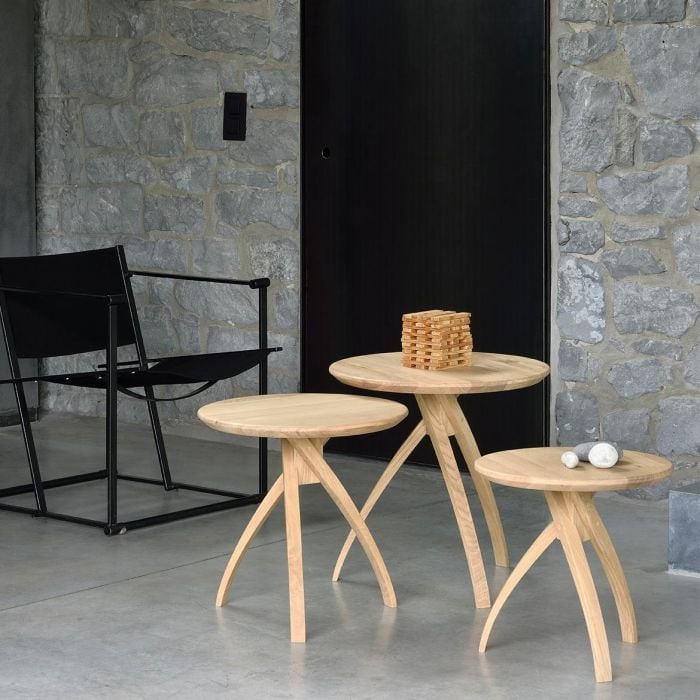 The graceful curves of the Oak Twist Side Table, designed by Paul Delaisse
You may also be able to glimpse Japanese influences in van Havre's Mikado Desk, with the legs presented like wooden puzzle pieces that fit together perfectly,  or the minimalism of the Tripod series of side tables, by designer Heidi Earnshaw.
The Mikado Desk. Designer: Alain van Havre
The Tripod Side Table. Designer: Heidi Earnshaw
Keeping it natural
Ethnicraft has a light-and-airy aesthetic but it's not cold and clinical. It's driven by its focus on light woods such as oak with a white oil finish, or warm neutral tones such as light walnut or natural teak as a basis for many of the designs. And because the pieces are crafted in solid wood, they age gradually and gracefully, increasing in depth and character through the years.
There are various solid woods and finishes to choose from. Our favourites include natural oak, which gives a very Scandinavian blonde-wood aesthetic to any room. Warm it up while still keeping it light, with some richer walnut tones, or go warmer still with teak tones that are rich without being overpowering.  
Oak Bok Dining Chair. Designer: Alain van Havre
Walnut
Walnut Spindle Bed. Design: Ethnicraft
Teak
Teak M Rack. Designer: Alain van Havre
On some of the pieces you'll find a black accent or metallic additions as a counterpoint to the serene aesthetic driven by the natural light wood tones. For instance, the Bok Adjustable Desk introduces an industrial element, very resonant of modern design classics, with its motorised adjustable metal legs; and the Gabbia Lounge Chair is a  pleasingly-curved black metallic shape that gently cradles the human form.
Gabbia Lounge Chair. Design: Ethnicraft
Built to last
Ethnicraft's designers focus on making furniture that's here to stay. Modern design has always rejected the culture of fast, disposable pieces, and Ethnicraft stays true to this ethos by creating designs that can withstand trends and harmonize beautifully with other pieces. 
It's fully on board with environmental concerns, for instance, by re-using production waste, and using responsibly-sourced wood.
Affordable
These days many of us are on tighter budgets, so, instead of splashing out on statement furniture, how about focussing on a few accessories? Ethnicraft produces a variety of stylish homeware accessories that won't break the bank.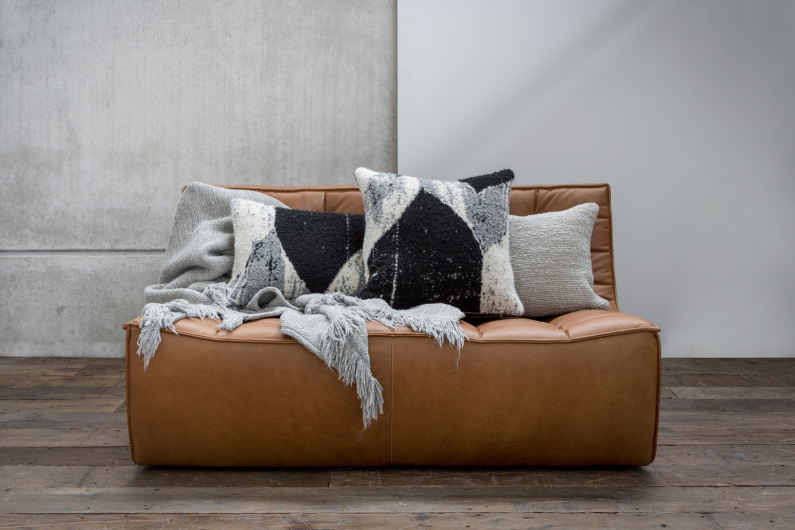 Abstract Layer cushions. Design: Ethnicraft
Treat your sofa to the mix'n'match playfulness of Ethnicraft's "Refined Layers" collection of cushions and throws which blend together shaded tones and patterns. Alternatively, add some instant sophistication to cocktail time with a serving tray from the hand-painted Translucent Silhouettes collection. These wouldn't look out of place in an art gallery.
Translucent Collection of glass trays. Designer: Dawn Sweitzer
Ethnicraft is a brand that imbues all the principles of modern design but the price tags aren't beyond the reach of us non-billionaires. You get the quality and robustness of great design but you won't need to sell a kidney to get it. 
Louise Etheridge
Leave a comment
Comments will be approved before showing up.
---
Also in News
July 21, 2021
Remodeling any part of your home should be exciting! Kitchen renovations are often costly and time-consuming, but the results will be well worth it! While a professional kitchen remodeling contractor is the best way to go, there are some steps you can take yourself to be more involved in the process. 
As the largest online dealer of modern furniture, we've helped countless clients explore kitchen furniture and accessories that put the finishing touches on their projects. In this article, we'll explore some tips to help you plan a successful kitchen remodeling project. We'll also discuss some of our best-selling furniture and lighting fixtures to make your new kitchen impress your guests! Let's dive in!
June 18, 2021
Home entertainment systems and personal electronics have undoubtedly changed over the years. Binge-watching your favorite series through innovative streaming services on ultra-thin, high-resolution TVs is now a common American pastime. As millions of Americans have shifted towards staying in for a night of Netflix and chill since the COVD-19 pandemic, now is a great time to spruce up your space. 
Today's average media system is more than just a collection of electronic devices. With the amount of money you've spent on your home entertainment system, you need media furniture that is engineered to protect your investments. So finding creative, modern media furniture that looks great in your living space and protects your entertainment center is the best option.