Make room for media
Make room for media
Media room with USM Haller Modular Furniture
When modern design started back in the early 20th century, TV wasn't a thing. But with principles of functionality and serving human activity at its heart, modern design has developed to fit how we live now. So whether you're a gamer, a traditional satellite or cable guy, or you prefer a streaming service like Netflix,  there is a whole heap of purpose-built smart and practical media cabinets and TV units to choose from.
And we all know it's not just about looks. A key principle of modern design is that form follows function. And so it's risen to the challenge of the need for high-quality sound dispersion, concealed or open storage, remote-friendly doors, ventilation, cable management, and TV safety straps. 
Let's take a look at what's on offer from three of our favourite brands:
BDI
BDI Media Set-up with the Margo Cabinet 5229
You can tell that the team behind BDI are heavily influenced by Danish design. Stylishly modern and imagined on clean and uncluttered Scandinavian lines, BDI's media units have a modern design "flavor" for every aesthetic.
With its 1950s palette and not-quite-hairpin  legs, BDI's Margo range is in-your-face retro but with a very contemporary twist. The Margo Cabinet 5229 is perfect for home theatre fans, with ultra-smooth gliding doors, cable management and loads of storage, while the Margo Console 5211 has a slimmer profile, narrower footprint and a stylish floating top shelf.  The powder-coated steel supports on both models echo the traditional industrial chic of modern design.
The BDI Elements 8779 Media Cabinet in action
For a more artisan feel, BDI's Elements range features stunning laser-cut doors, backed with perforated metal, removable back panels and all the cable management and ventilation you'll need. The warm finish and choice of ultra-contemporary door patterns make Elements a statement piece. It's not for hiding away in a corner.  
Gorgeous yet subtle. The Cavo Home Theater Cabinet 8168
If you're looking for something more subtle but still uber-gorgeous, check out another of BDI's ranges, the Cavo. Made for smaller media home theatre systems, and designed with soundbar speakers in mind, the Cavo range displays the elegant utility of modern design. No fuss, no frills, just a simple function-driven layout.
USM
With USM Haller Media, you can store way more than just a console.
We've always been fans of anything USM. The ultimate modular brand, USM is for people who want to create their own rig. USM's Haller Media B2A is a trim little low-rise unit with divider shelves, cable cut-out and castors for easy re-styling and, with seven cool colors to choose from, there'll be one that's perfect for your space.
USM Haller Media 03- simply timeless.
If you're into vinyl, there are some choice USM Haller pieces that will show your collection off to its best. The Haller Media 03, designed back in 1963 by architect Fritz Haller and Paul Schaerer, has a small footprint but an open, spacious shelf for a small collection, and there's room for your new retro turntable on top. Too much vinyl? There can never be too much. Simply acquire Haller shelving as you grow your collection.  
What we love about USM Haller is that any modern piece will fit with a piece bought 50 years ago. It's easy to adapt the pieces as your needs change. 
Blu Dot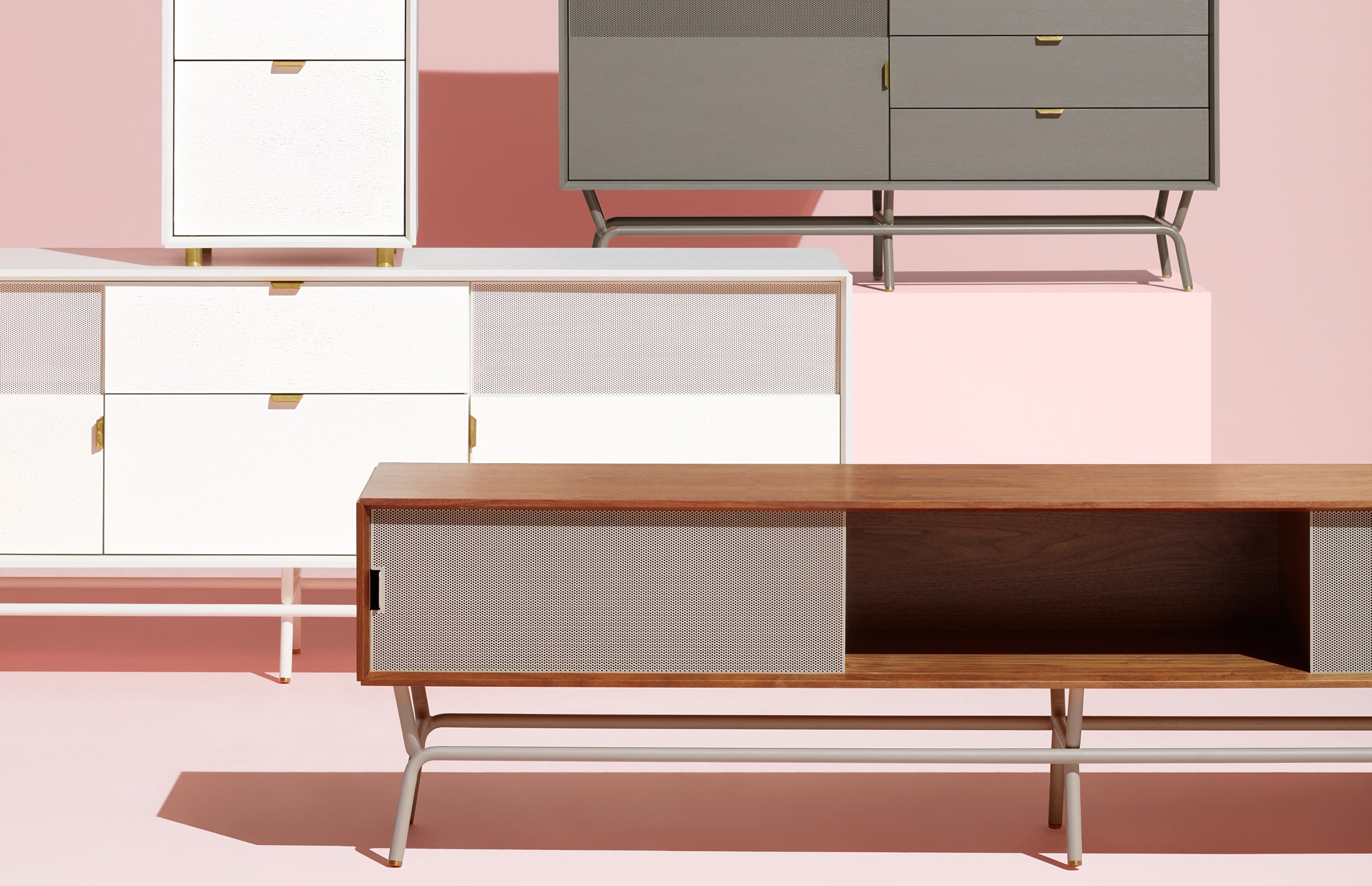 Blu Dot's media solutions always look stylish, especially the Dang Long and Low media console
It won't surprise you that Blu Dot was founded by two architects and a sculptor. You'll find a blend of architectural shapes and an organic feel within the design aesthetic. And it's generally more affordable than other modern design brands. Alongside BDI and USM, Blu Dot designs have catered for the way we live now, and this means there's an array of stunning pieces that will house your media set-up beautifully. 
The Dang Long and Low media console is - surprise! - long and low and that makes it perfect if there's nothing you like better than a wall of sound. Its powder-coated perforated steel front doors are remote-friendly and decent cable management removes the annoying cable problem.
The best things come in small packages. Blu Dot's Dang Media Cabinet.
For a smaller footprint, try the Dang Media Cabinet: the same contemporary feel as the Long and Low but with the addition of brass drawer and door pulls for a crazy antique touch. 
The days of ugly media units are over - and never should have begun. For simple solutions that look good, all you need is to take a look at modern design. But we're biased. 
Louise Etheridge
Leave a comment
Comments will be approved before showing up.
---
Also in News
July 21, 2021
Remodeling any part of your home should be exciting! Kitchen renovations are often costly and time-consuming, but the results will be well worth it! While a professional kitchen remodeling contractor is the best way to go, there are some steps you can take yourself to be more involved in the process. 
As the largest online dealer of modern furniture, we've helped countless clients explore kitchen furniture and accessories that put the finishing touches on their projects. In this article, we'll explore some tips to help you plan a successful kitchen remodeling project. We'll also discuss some of our best-selling furniture and lighting fixtures to make your new kitchen impress your guests! Let's dive in!
June 18, 2021
Home entertainment systems and personal electronics have undoubtedly changed over the years. Binge-watching your favorite series through innovative streaming services on ultra-thin, high-resolution TVs is now a common American pastime. As millions of Americans have shifted towards staying in for a night of Netflix and chill since the COVD-19 pandemic, now is a great time to spruce up your space. 
Today's average media system is more than just a collection of electronic devices. With the amount of money you've spent on your home entertainment system, you need media furniture that is engineered to protect your investments. So finding creative, modern media furniture that looks great in your living space and protects your entertainment center is the best option.