Make it modern design: Your new home office
The COVID-19 crisis is making us reassess our working culture. For many of us, working from home is the new normal, and the business world is considering the benefits of continuing a more flexible working pattern, post-pandemic.
So, if you're up for working from home more permanently, the kitchen counter doesn't cut it anymore. You're going to need a home office that's comfortable, useful and - of course - looks good, whatever your space and budget.
Beautifully useful
Modern design principles are perfect for home offices. One of the key principles is functionality, to fit how people work and what they need from their furniture. Yes, it's about ergonomics, but it's also about the tiny-but-important details like cut-outs for cables and task lighting.
Small space working
If you've a small apartment, you'll already know you'll need to be clever with space. Think dual-purpose, foldaway or wall-mounted work surfaces for your laptop. MASH Studios' Lax Series wall-mounted desk has cubbies to stash your stuff and no legs to get in the way of yours. Made of solid English walnut and white aluminium, it's a smart piece that you won't want to hide away (even if you could).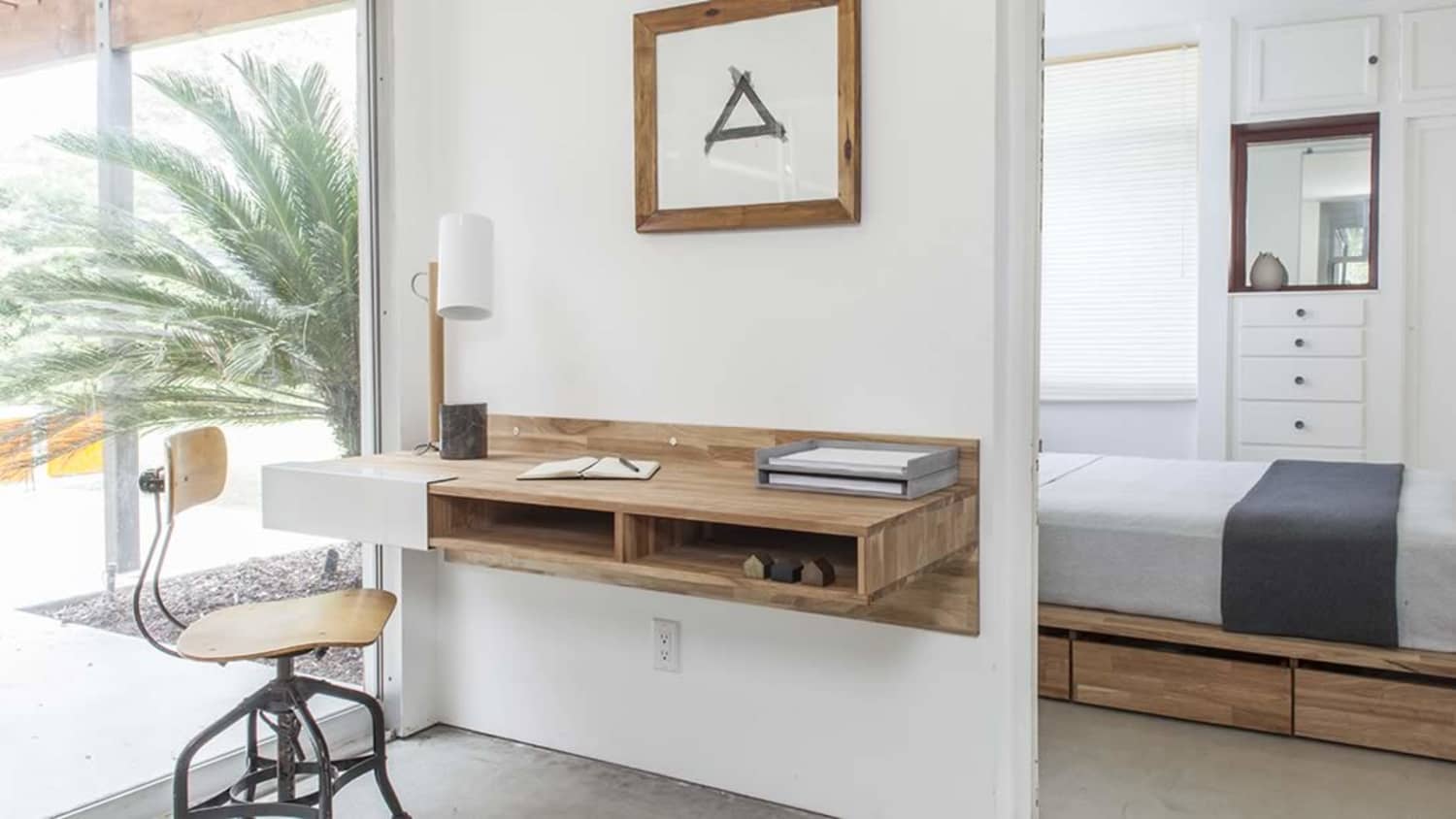 Look, no legs, mom! MASH Studios Lax wall-mounted desk. 
Add some task lighting in the form of Anglepoise's Original 1227 lamp, and you're good to go.
If you prefer a more laid-back atmosphere, and just need your tablet and a cup of coffee, go the whole Starbucks theme with a bar-height table and stool. BluDot's Sprout or Hot Mesh bar tables have tiny footprints but big personalities (especially the bright yellow options) and, counter stools to match, you'll be sitting pretty. 
Stylish and fun but just for work sprints.
Hot desks
If you have the space for a 'proper' desk and all the trimmings, you're spoilt for choice. There's an embarrassment of beautifully streamlined, so-good-to-look-at-it-hurts desks from designers taking their cue from 1950s functional sleekness to a more contemporary feel. 
For all-purpose modern simplicity, you can't go wrong with a Tom Dixon Slab Desk, inspired by Victorian English school desks, but with softly-rounded edges, the traditional inkwell transformed into cable management and a deep groove cut in for pens (if you still use them!)
Tom Dixon Slab Desk: Yes, please.
For a mid-century feel, choose Vitra's Compas Direction Desk, designed by architect and engineer Jean Prouvé in the 1950s. Although topped in solid oiled wood, the desk's powder-coated steel legs give it more of an industrial drawing-office feel. And for full-on industrial chic, Jesse Brody's Fold Desk is easy to look after, beautiful to look at and a pleasure to work from. (And yes, we're biased, but not sorry).

Vitra's Compas Direction Desk. We'll have it in all the colours.
Also getting honorable mentions for all-out stunning looks are Bensen's Homework 2 Glass Top Desk with cantilevered floating-look drawers and the ultra-sustainable Heiss Desk by Ali Sandifier.
Are you sitting comfortably?
Unless you prefer a standing desk - in which case, check out BDI's 20 Lift Sequel Standing Desk - you're going to need something to sit on that's not going to strain your back or encourage poor posture. 
Herman Miller's classic Aeron Chair, first designed by Stumpf and Chadwick in 1994, has been remastered by Chadwick in 2016 in line with Miller's latest research around the science of sitting. 
Herman Miller's Aeron Chair 2016
With even more adjustability and a more comfortable sit, the Aeron is a good choice for a long workday as well as an iconic addition to your space. Another ergonomic choice is the Eames Soft Pad Management Chair, again by Miller, designed with a firm but flexible "sitting pocket" that adjusts naturally to fit and support your body's natural shape.
The Eames Soft Pad Management Chair: Available in a trillion colours.
Of course, work isn't all about tapping away on a keyboard. It's about thinking, creating and innovating. Who says you even need a desk? If you have the room, do your thinking from the comfort of Artifort distinctive Chaise Longue, designed by Harcourt back in 1970. The modern interpretation is a stunning tubular steel form upholstered in foam and covered in textured colourways.
Chaise Longue by Artifort. 
Working from home can have its challenges but at least you're free to work in your own style - make it modern design.
Louise Etheridge
Leave a comment
Comments will be approved before showing up.
---
Also in News
July 21, 2021
Remodeling any part of your home should be exciting! Kitchen renovations are often costly and time-consuming, but the results will be well worth it! While a professional kitchen remodeling contractor is the best way to go, there are some steps you can take yourself to be more involved in the process. 
As the largest online dealer of modern furniture, we've helped countless clients explore kitchen furniture and accessories that put the finishing touches on their projects. In this article, we'll explore some tips to help you plan a successful kitchen remodeling project. We'll also discuss some of our best-selling furniture and lighting fixtures to make your new kitchen impress your guests! Let's dive in!
June 18, 2021
Home entertainment systems and personal electronics have undoubtedly changed over the years. Binge-watching your favorite series through innovative streaming services on ultra-thin, high-resolution TVs is now a common American pastime. As millions of Americans have shifted towards staying in for a night of Netflix and chill since the COVD-19 pandemic, now is a great time to spruce up your space. 
Today's average media system is more than just a collection of electronic devices. With the amount of money you've spent on your home entertainment system, you need media furniture that is engineered to protect your investments. So finding creative, modern media furniture that looks great in your living space and protects your entertainment center is the best option.