Stress-free Online Furniture Shipping & Handling
 So, you've saved up your hard-earned dollars and finally ordered that oh-so-damn-gorgeous Florance Knoll sofa in whiter leather.  Maybe you're sitting on your cruddy old sofa, wondering whether you can actually fit the entire neighborhood on the soon-to-be Knoll. Maybe you think that you can just sit back and wait for it to appear miraculously in your living room.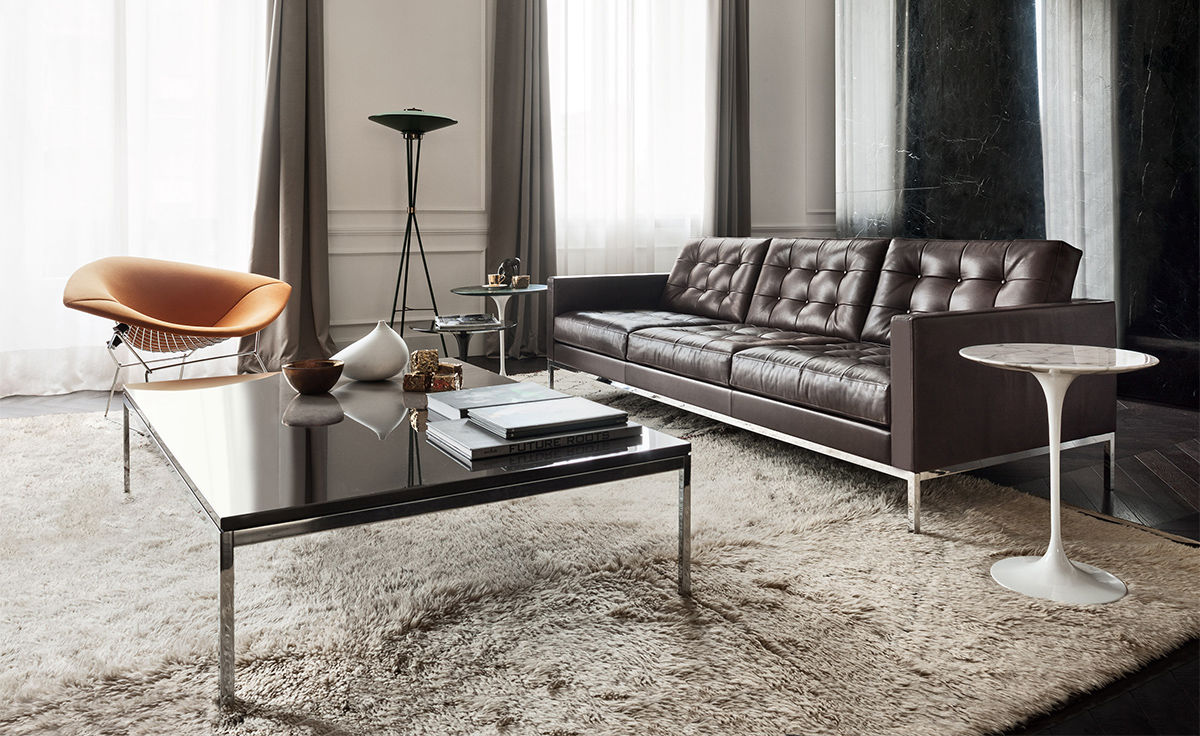 Newsflash. Nuh-huh. There's a big difference between a 5 lbs cardboard box and a 300 lbs mid-century modern piece of furniture. Getting your new invertment safely, on time and without a scratch is a science and an art. Amazon it's not, and shouldn't be.
 A winning delivery is a team effort, and you're included in that team. It's a four-person relay and you're the anchor. The other team members are you, your online dealer (hopefully us), the freight carrier and the final mile delivery company if White glove or inside delivery  is needed.
Shipping 101
 To understand your part of the team effort, here's what you need to know.
As soon as you press 'buy' on that large item, if we don't hold it in stock, we'll contact the manufacturing vendor to submit your order and make sure you're getting the right item in the right color and right dimensions. And then the shipping begins!


Your sofa, bed or dresser is large freight - because it's large, right? There's no way it'll fit in your mailbox (believe us, we've tried). There's a big difference between a sofa and a small parcel, the type delivered by UPS, or Fed-EX. In freight terms, your item is classed as LTL. LTL stands for  "Less Than Load" and this means that it won't need a whole trailer but it'll take up a damn good chunk of it.


LTL freight is professionally strapped down and shrink-wrapped to a wood pallet by the manufacturing company after assembly is finished, to ensure that the freight won't be damaged en route. This means your item will only be handled with a fork lift moving forward.


Your shipping is also classed as "LTL ground" which means that the delivery driver will take your item on its pallet out of the truck and place it literally on the curb-side outside your delivery address.


You unwrap and inspect the delivery to make sure it's undamaged, before you sign the delivery driver's Bill of Lading (BOL).


You'll then move your item into your house and assemble if not preassembled.
Sounds easy, right? Nope.
If you're not wary, there can be a lot that can go wrong. Maybe you usually ask a neighbor to take delivery of your stuff while you're at work. Maybe you assume that the delivery people will take away the pallet and packaging for you. And how the Davy Crockett do you unpack and inspect a sofa on the sidewalk when the delivery driver is itching to get away? Most modern dealers (including us) will ask you to sign a freight damage waiver pre-delivery, which means that you're responsible for post-delivery damage.
But don't panic. You've got this. You just need to be prepared and just a little bit badass.
Here's your checklist for an oh-so-smooth delivery:
Take the time
For such a big delivery, you're going to need to be at the delivery address at delivery time. Don't expect your neighbor or your six year old to sign for your sofa. If they do, any damage is your responsibility, and that sucks. Make sure you're onsite and ready.
Get the tools
With "LTL ground', it's your job to open up that delivery and check what's inside. You'll need   utility blade and possibly a hammer pry-bar and power screw driver (if item is created) to get your item off the pallet - it's fairly straightforward, but take your time and do it as carefully as possible so you don't damage your sofa. Be vigilant with opening cardboard boxes with utility blades or knives. We have seen customers slice  through the top of more than a few leather sofas!
Don't be afraid to reject the delivery
If you see any damage when you unwrap your delivery, don't be afraid to reject it. If there's bumps and bashes on the packaging, chances are there might be bumps and bashes on your furniture. Inspect your delivery carefully and if you see visible damage, say "No, I'm not accepting this delivery," to the driver, and write "freight damage" on the delivery form or BOL (bill of lading). Don't forget to get a copy from the driver. The responsibility for damages will then lie with the delivery company and not you. You might have to wait a while longer for a replacement, but it's better than a less-than-100% sofa sitting sadly in your apartment.
Don't feel rushed
Try not to let the driver rush you. Even if they're quite happy to wait for you to check the goods, it can feel rude to keep them waiting. But you've a right to inspection time, so tough it out. Sometimes it's helpful to have a delivery buddy to help you as moral support. Not only will they be another pair of eyes to check for damage, but they'll be able to help get your new  sofa into your apartment (see point 5)
Bring in your own team
You might be an independent, person, but there ain't no way you're gonna get that sofa into your apartment by yourself. It's time to call in favors. Pick your strongest, least cack-handed buddies and borrow some furniture sliders to get that bad boy where it needs to be - carefully! Remember, you're responsible for any damage to your new furniture when you're moving it in and assembling it. Your buddies can help you unwrap and inspect your new piece, too. It's all good.
Take out the trash
Don't forget to recycle the pallet wrapping and boxes that kept your sofa safe.
Or bring in a white glove team
If the whole LTL delivery thing sounds like too much hard work, ditch the responsibility and book a white glove service. This can usually be booked directly with the online dealer as they usually have a network local companies they have used in the past.  It does cost extra but if you've bought something pricey or massive, it could be worth the extra investment. The white glove service team will:
Deliver your item
Unwrap it and move it into your delivery address
Assemble it (if it needs assembling) and give you all the time you need to inspect for damage
Take away all the packaging and the pallet.
  You can also  have your items shipped to a local "White Glove / Final Mile" receiver or your choosing.   Typically to can Google this inquiry by simply typing "White Glove Furniture Receiver ________________(enter city where you live) "
A  "White Glove"  receiver will significantly reduce the possibility of damage as the item will be received and  inspected upon initial arrival at the carrier drop off.  They will then schedule your delivery  where you can inspect without driver pressure.
FYI there are many different "white glove" type services and not all will actually wear white gloves. and booties.
When you've invested in a quality piece of furniture, something that'll last for years, it makes sense to welcome it into your household with the care and attention it deserves.
If you are one of our local customers its better to order directly through our  Miami Beach showroom. This way our sales associates can book any of these services for you.
CA Modern Home
1560 Lenox Ave Ste 101
Miami Beach Fl 33139
305.531.1859
www.camodernhome.com
Louise Etheridge
Leave a comment
Comments will be approved before showing up.
---
Also in News
April 16, 2021
April 09, 2021